Top-restoration of a Austin Healey
3000 Mk III phase 2
Sales reportage - Restoration reportage - Reportage of the finished car
This Austin Healey 3000 comes from a limited production series, built at the end of the production-period of the Austin Healey. The limited series consisted of only 500 cars.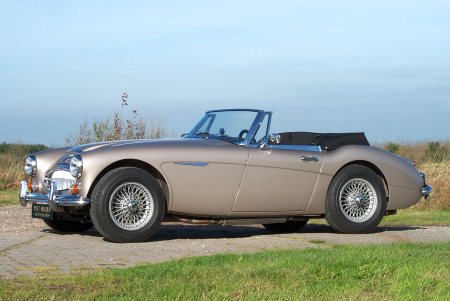 This Austin Healey 3000 was located by Piet Mozes in the past and is now restored to absolute TOP- condition for the proud owner. The goal was to reach the utmost perfection as no cost or hard work was saved. The car was stripped, sand blasted and the bodywork was carried out. The car was sprayed with epoxy-primer and the body and body panels were perfectly smoothened and prepared before the immaculate paintjob was done.
The engine, gearbox, overdrive and other mechanical parts were overhauled, powder coated and/ or painted. All small bare-metal suspension-parts were galvanized.
All other parts concerning brake system, clutch ect. are new.
The interior is remade to original specification (black leather with aluminum/silver colored piping.)
We at the ClassicarGarage were very pleased to follow this fine restoration project. It is hard, no impossible, to imagine that there could exist a better and more perfect restored Austin Healey 3000 than this one...
Do not hesitate to contact Piet Mozes Restorations in case you are planning to have your own Austin Healey fully or partly restored...
to perfection...




© 2001, V3D/ ClassicarImages. All rights reserved.